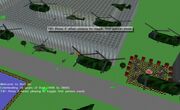 Rod 3D
is the third part in the
Rod
series. It is the first jbplay game that features 3D graphics. It currently has only one publicly released version, BETA 1.
Rod 3D was released in 2008. It was made for the 10'th birthday of the original Rod. At the same time, it was also intended to be a tech demo of the Meteor: Elements engine.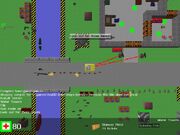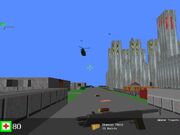 The gameplay of Rod 3D is best compared to
Meteor
, but you play as a yellow car. The key features of Rod 3D are it's 3D graphics engine, and the optional first person view mode. The game also offers a scripting system, which is very extended in comparison to
Meteor 2
's. For example, you can set the camera angle and viewpoint using scripts.
To kill an enemy in first person view, you must shoot at it's bottom.
In third person view, it may occur that you miss an enemy because you shoot above it.
Buildings that can be entered literally have no roof. Therefore, you can attack enemies flying outside from inside a building. However, they can attack you too.
There is a flaw in the collision detection which allows you to go though walls if you drive into them while rapidly spinning around.
Oddly, the car will behave glitchy if you go northwest in third person view.
External links
Edit
Community content is available under
CC-BY-SA
unless otherwise noted.