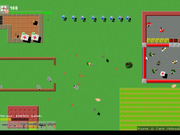 Meteor is a top down military shooter for Windows 98/2000/XP/Vista/x64 supporting single player, cooperative and head to head game modes over a LAN or across the Internet. The game is programed using a custom engine in the Allegro library.
Version History
Version Number
Release Date
Major Changes
???
6 April 1999
First public beta
0.6R and 0.61R
27 June 1999
Bugfix
0.62R
30 June 1999
Bugfix
0.621R
1 July 1999
Bugfix
0.63R
17 May 2000
Bugfix, Feature addition
0.63R (release 2)
4 October 2000

Refinement, Bugfixes, Instant hit projectiles

1.0
4 Februrary 2001
Full version release
1.1 Test 1
11 July 2001

Win32 Direct X Support
Pigs
Total Conversion Modding Support
Music and Sound Additions
Bugfixes
Additional Features

1.1 Test 2
24 July 2001
Speed and Stability Increased
1.1.3
12 October 2003
Bugfix
1.2
9 February 2004

16 bit graphics
Client Side Servers with support for up to 64 players
Head to Head mode
Cooperative Mode
Base Delta map added
Laser Chaingun added
Better Stability

1.3
5 September 2005

UDP based networking for faster multiplayer
Light Sourcing
Mouseover Info
Quick Saving
Particle Effects

1.3.1
5 September 2005
Current Version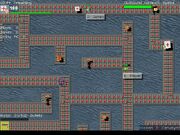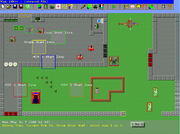 Meteor features integrated modding support including tools to create tiles, sprites, weapons, races (NPCs), maps, projectiles, players, and maplists. An external program is needed to create art, though a simple program like Microsoft Paint will do. Likewise, sound and music must be imported from elsewhere.
Meteormods Database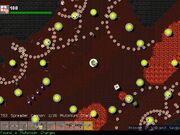 Community content is available under
CC-BY-SA
unless otherwise noted.